Isabel Choat writing in The Guardian - 24th June 2012
A SENSE OF SPACE IN THE FOREST OF DEAN
The ancient woodlands of the Forest of Dean make a striking contrast to the futuristic new Dome Garden in its midst, and a perfect place for kids to run wild.
It is apt that Jonny Clothier chose to build the Dome Garden in the Forest of Dean, an ancient woodland steeped in myth and legend and, so the story goes, inhabited by hobbits and ghosts. There is something otherworldy about the cluster of white geodesic domes set in a forest clearing. At night, when they are lit up from inside, they look like alien pods that have just landed from outer space – I half expected to see something ET-like emerge from one. In fact the only creature I spotted inside was a strutting chicken. Perhaps it was attracted by the carpet of fake grass.
The astroturf floor is one of many quirky features at Dome Garden. There are sturdy metal frame beds with proper mattresses but, not surprisingly, children prefer to sleep in the hanging canvas pods that look like cocoons. A funky lime green colour scheme runs through the whole place from the table lights to the cushions. The minimalist decor is in stark contrast to the current fashion for shabby-chic glampsites. There's no bunting or tealights or patchwork throws on the beds, to the disappointment of Canopy and Stars – apparently the glamping website recently launched by posh B&B guru Alastair Sawday wanted Jonny to get rid of the turf and create a more homely feel in order to add it to the collection. Of course he refused. He has an almost childlike enthusiasm for his project and wasn't about to change it to fit in with someone else's idea of what his site should look like.
So far the former architect-turned-filmmaker has designed and built six domes, but the plan is to build another four – one of which will be filled with tropical plants, like a mini Eden project – as well as a five-room B&B with a mini dome on the roof for people who don't want to rough it.
Not that we were roughing it. At seven metres each in diameter, the domes are bigger than most hotel rooms. Each one has a flushable indoor loo, a shower and a woodburning stove, which I insisted on lighting for the sheer pleasure of seeing the smoke puffing out of our little chimney, even if it did mean sweating in sauna-like temperatures inside.
But we were not entirely cosseted.
"Dome-ateers" – as Jonny calls his guests – also have to light a woodburning water heater for the shower, and although he offers breakfast in a small on-site house, guests are encouraged to cook their own outside on the rocket stove, a basic contraption that you simply feed wood into.
"I want to encourage people to go out into the forest and collect sticks for the stoves," he told me. And there's no excuse – there are numerous woodland paths leading directly from the garden.
Fires are a popular feature. Guests are invited to a weekly pizza-making session – the dough and toppings are provided, so all you have to do is assemble it and feed it into the huge wood-fired oven. It's not as easy as it looks – ours came out looking like a squashed calzone. After sunset a bonfire was lit in the central fire pit and site manager John regaled us with tales about the forest.
And there are plenty of tales to tell. A "strange and beautiful place … a heart-shaped place between two rivers, somehow slightly cut off from the rest of England…" is how Dennis Potter, who was born in the forest, described it. Its geographic isolation is one reason locals are said to have such a strong community spirit – and a reputation as mavericks. They were a law unto themselves – literally – until the mid-1800s, when the forest, according to local lore, became the last place in Britain to get a police force. A dwindling band of "foresters" still have free mining rights under an ancient and obscure law.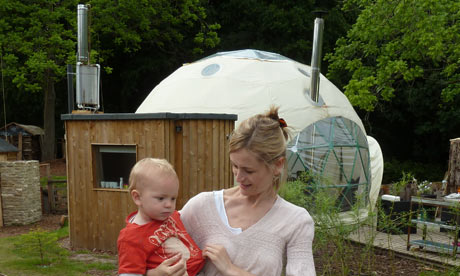 In some ways Jonny is continuing the maverick tradition by opening a posh campsite in an area that is generally overlooked by tourists. Compared with the New Forest and the surrounding counties of Shropshire, Monmouthshire and Oxfordshire – which are all brimming with boutique guesthouses and gastropubs – this corner of westGloucestershire has been slower off the mark when it comes to tourism infrastructure. What attractions there are are small scale, but great for young children. The Perrygrove steam train trundles along a single track, stopping to let its junior passengers act as guards and wave the flag, while Puzzlewood is a maze of paths running through mossy, Tolkeinesque woods.
One thing the forest has in abundance is cycle tracks, and at the Pedal A Bike Away centre we hired bikes and a baby seat and pootled along the nine-mile family track past foxglove-carpeted heathland.
In the tiny village of Symonds Yat on the east bank of the river Wye,Wyedean Canoe and Adventure Centre offers all sorts of activities on water and in the surrounding countryside, an Area of Outstanding Natural Beauty. The idea of kayaking along the river past picturesque steep wooded banks was appealing, but not very practical with a one-year-old in tow. Instead we sat outside the excellent Saracens Head pubwith pints of local Kingstone ale, watching a young guy haul an ancient rope ferry to the opposite bank.
As we drove back up the steep winding road from the river, two young deer leapt across the road in front of the car. I slammed on the brakes and held my breath and the beautiful creatures disappeared into the forest. It only added to the sense that this is a magical place.